Thinking Vintage?
Are you thinking about designing a "vintage" space? What elements come to mind?  No matter the vintage style – whether it's Retro, Shabby Chic, Arts and Crafts or Hollywood Glam, plaster mouldings is a signature room element that enhances any wall to ceiling décor.
Actually, it may be hard to omit plaster mouldings from vintage designs as they are so much a part of our architectural past. They can be found as wall and ceiling enhancements in civic spaces and urban dwellings, a must-have design element in Victorian homes, and works of art gracing fancy boudoirs. It could be argued that the use of plaster moulding in vintage design is indispensable.
To achieve a vintage look with plaster mouldings, consider applying to them faux finishes. They can be distressed, marbled, incised, color stamped, and stenciled to help you to achieve the vintage look that you desire. Besides its beauty, an added bonus for using plaster is its durability and longevity. Unlike other molding materials, it does not swell, shrink or separate at the joints and seams. It is truly a vintage medium because it endures time and change — connecting our past to our present and beyond.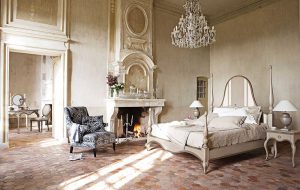 Achieve a Vintage Look
Here a few tips to use to achieve a vintage look with plaster moldings:
1. Select the period of time you want your space to reflect. Stick with that period. It would be confusing to add 1970's elements to a Victoria era project.
2. Choose and use a color palette that is indicative of the period.
3. Include antiques, family heirlooms; and consider the addition of vintage furniture.
4. Re-purpose old appliances, doors, windows and the like for a more rustic feel.
5. Feature aged linen, distressed woods, soft whites and pastels for a "shabby-chic" space.
6. Consider using steel, brick, metals and copper-toned accents for an industrial vintage look.
7. Incorporate plaster mouldings that reflect the vintage period you are creating. For example, industrial vintage would use very streamlined moldings. Whereas, shabby-chic could play with decorative cornices featuring, flower, shells and ribbon motifs.
additional resources:
    37 Ceiling Trim And Molding Ideas To Bring Vintage Chic
    Vintage molding ideas on pinterest.
One Stop for Your Plaster Moulding Needs
DecoCraft USA is the best source for your plaster moulding needs. We have hundreds of existing profiles to complement your vintage project. What we don't have, we can fabricate as experts in custom designs.
Whether you are looking  for stylized art nouveau and art deco moldings, or one for the simple warmth of  a "home and hearth" country décor, or the another reflecting the glamour and elegance of an earlier period, we have an array of profiles from which you can choose.
We offer traditional crown moldings, decorative cornices, wall panels, fire mantels, ceiling medallions and even plaster ceiling tiles that emulate the beautiful tin ceilings of our past. If you are searching for a particular ornamental detail, you can browse our website for designs that include lamb tongues, ropes, shells, leaves and more. We also offer installation tools likes knives and sandpaper — standard fare for installing plaster mouldings.
The Team behind DecoCraft USA
We are a team of professionals that include artisans who believe that plaster moulding design is a delicate art form going back millenniums and should be revered. Crown moldings, chair rails, ceiling corners, capitals, door casings, niches and fire mantels made in plaster inspires endless ideas for creating beautiful work. We employ gifted people who share our vision; and who also have the passion to fabricate quality moldings and give the high-level service that you deserve.
Finally, you can have our vintage plaster mouldings installed by your own contractor or by our experts. DecoCraft's team of talented installers are trained with the knowledge to install our moldings effectively and efficiently.  The bottom-line is that DecoCraft USA has everything you need to turn your vintage dream into a reality. Contact us with any questions or to get more information.