Sustainable Design with Plaster Moulding
Plaster has been the natural and sustainable choice for decorative moulding for hundreds of years. It is a sustainable design element that accomplishes two things at once. It reduces the environmental footprint as a "passive" architectural finish and; it elevates a space with artistic design. Adding plaster crown moulding to walls is a great way to add long-lasting, custom decorative elements without a large impact on the environment.
Plaster is formed by mixing a dry powder with water to create a sculptable paste. The powder can be made from a variety of natural materials, including lime, clay, or gypsum. It is then applied to a surface, such as a wood lath to build a wall. It can also be made into nearly any shape or design like a curved plaster cove for instance, and then affixed to an existing wall. Due to its composition, plaster is a widely used sustainable design option as it has one of the smallest environmental footprints of most architectural materials. It is often sourced locally, and its application relies more on skilled labor over complicated mechanical equipment.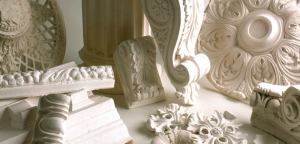 While it has external uses and benefits, architects favor plaster for interior architectural moulding for a number of reasons. First, in plaster's paste form, it is highly malleable and versatile, allowing it to take any shape with the appropriate mold. Offering countless design possibilities, designers can choose plaster to craft intricate decorative elements and then replicate them easily. For instance, a dental design is a popular motif for plaster moulding because of how easy it is to create a repeating pattern. Plaster is also valuable for its durability. It does not swell or shrink with changes in temperature or humidity, making it resistant to cracking. Should something happen to your plaster mouldings, it is easily repaired by ordering a new application of plaster without having to replace the entire moulding or wall. This limited need for additional materials further minimizes plaster's environmental impact and increases its architectural longevity. Besides plaster being an enduring, sustainable design finish, it is also fire retardant and meets universal fire safety code standards.
Plaster through the Ages
Artists and architects from the early Egyptians to Michelangelo have used plaster in their work. For instance, the Sistine Chapel was painted using a technique called "fresco", in which the paint is applied to a thin layer of plaster. As the pigment sinks into the plaster, the painting becomes one with the surface, allowing such masterpieces to maintain their integrity for years and years. Decorative plaster mouldings are still on display in many historic buildings throughout the world, including ornate ceilings like those in Union Station in Washington, D.C. or the Palace of Versailles. Homeowners may even find that their existing mouldings are unique originals installed when their house was initially built. The durability of plaster means that these masterpieces, both large and small, have been able to last until today for our enjoyment. With the proper care, these enduring and sustainable design moldings will remain for years to come.
If you are interested in adding time-tested custom plaster moulding to an architectural or renovation project, DecoCraft USA is available to help. Our team of highly skilled craftsmen will work with you to make your vision a reality. Request a catalog or sample today to see the possibilities for enhancing both the appearance and value of your home.
Related:
Sustainable design wikipedia
Sustainable design gsa